Probably most of the people have the concept that much money buys highest quality product.
In most cases, this is indeed true.
Expensive electric scooters usually mean better performance (e.g. faster speed, longer range, shorter charging times, better durability and portability).
However, not everyone has a mine at home, hahaha.
For those who are not chasing for a big brand, we can get a nice e-scooter but don't need to pay a high price.
For sure, we can't buy an electric scooter for the same price as a normal bike either, which is also unrealistic.
Of course, different scooters are designed for different purposes thus we have e-scooters at different price. Electric scooters for kids are usually more affordable than electric scooters for adults.
So, how much do I need to spend to get a decent electric scooter?
How much does an electric scooter cost ( adults & kids)?
It is possible to buy a basic electric scooter adults for under £100 on the market, while high-end electric scooters can cost over £6,000.
However, electric scooters uk in the price range of £300-£1,000 are the choice for most people.
The price range of the electric skateboards for kids is generally between £100 and £300.
Why are electric scooters so expensive?
Electric scooters are much more expensive than kick electric scooters due to the accessories.
The most expensive accessories are the battery and electric motor. Of course, the better the configuration, the higher the price of the electric scooter, and here we exclude for the brand effect.
As we know, batteries are very expensive and nearly a third of the overall cost of an electric scooter is contributed by the battery.
After all, the higher the power of the battery, the better the overall performance of the electric scooter.
The larger the battery capacity, the more power the scooter will have and the longer range.
The motor doesn't cost as much as the battery, but expensive too! After all, the motor drives the wheels, absorbs the shocks and vibrations in ride and plays an important role on an e-scooter. Good performance needs powerful motors!
In addition, the special features of regenerative braking and special bearings, etc. add up to increase the price on the e-scooter.
Whenever a new phone is launched, it tends to cost more than the precious one. That's because new phones cost a lot of money, manpower, equipment and so on for researches and developments.
The same is true of e-scooters, including testing, research, controller apps, and more cost.
Is it worth to buy an electric scooter?
As long as you buy a scooter and don't let it end up as a shelf or dusty habitat, then I think it's worth the money.
Make the most of your purchase and use it for what it's worth.
Of course, above is what I think but not your thoughts.
I don't care if you buy it for fun or for commuting or just for riding to the nearby 2km shopping mall. If you think it's worth then it is worthy. It's up to you to decide whether it's worth it or not.
Hahahaha just kidding, I indeed hope you won't regret buying an electric scooter afterwards.
How much does an adult electric scooter cost from KUGOO?
As mentioned above, the price range for an adult electric scooter, acceptable to most of us is £300-£1,000.
Then, how much are KUGOO's adult electric scooters? I would like to introduce you 2 e-scooters at random.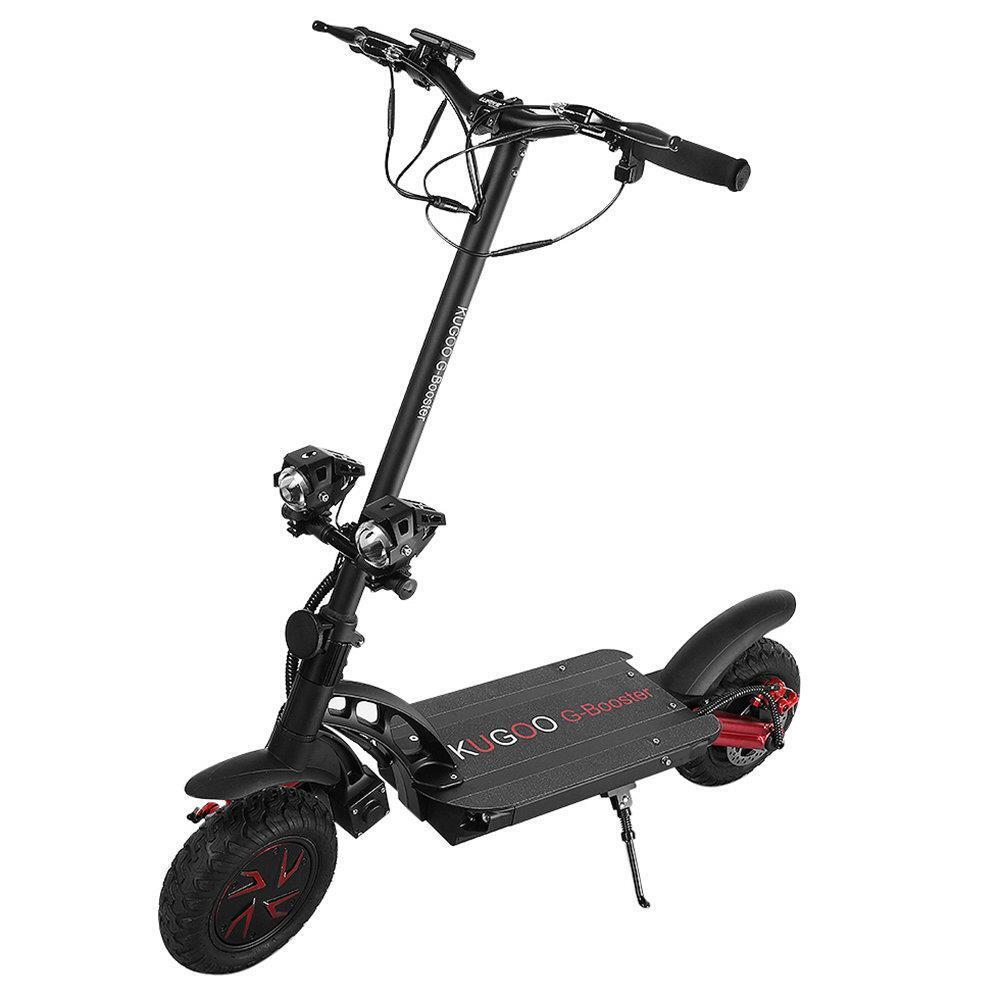 Highlights
Strong grip, wear-resisting and safe. It's suitable for different kinds of roads.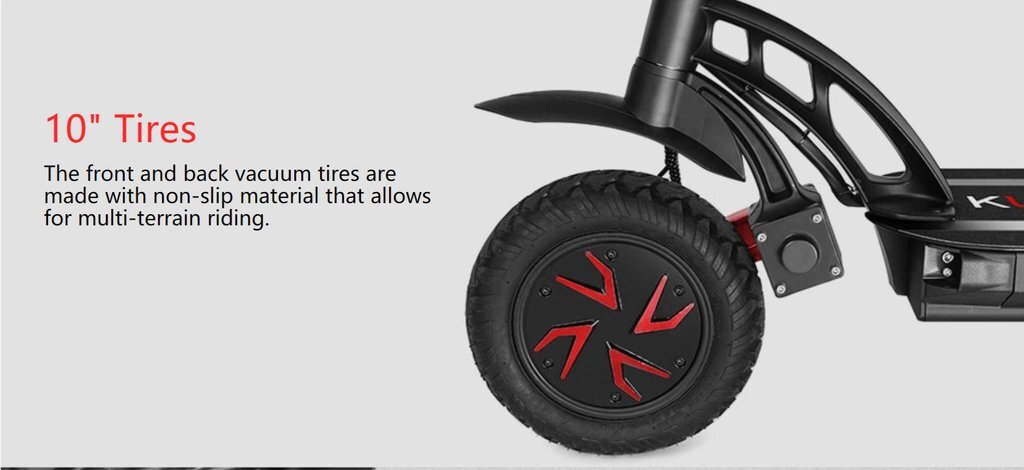 2 Motors On In Front Wheel, On In The Back Wheel
The strong driving force, 800W and 2 motors, 85km running distance.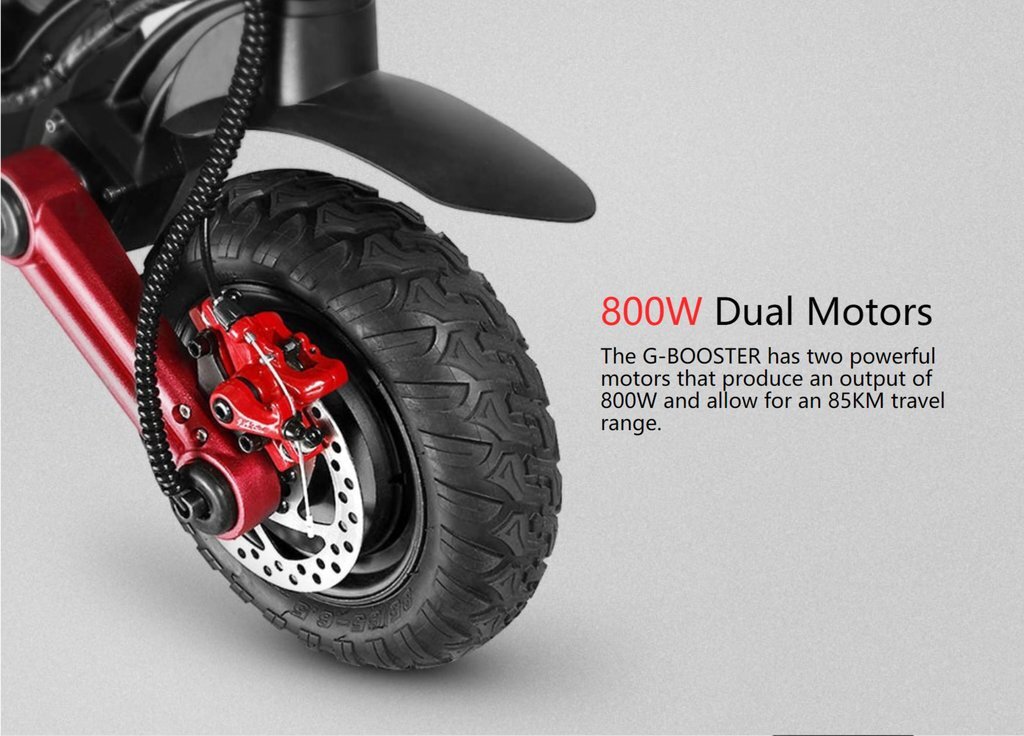 Front and back are disc brake, it's much more safe for people to ride.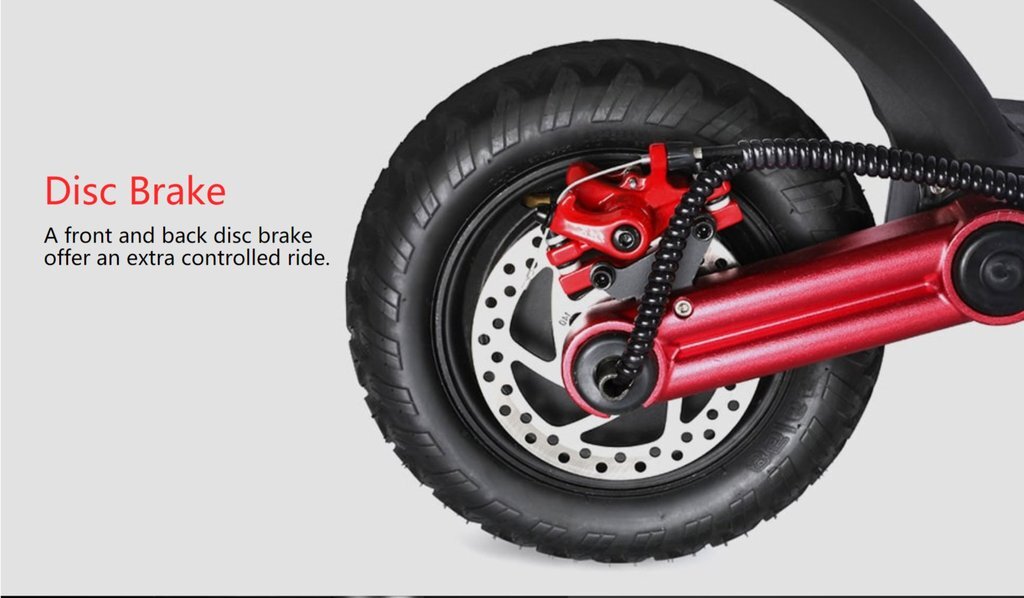 You control the speed according to the different road surface conditions, which makes driving more comfortable and riding more security.
KUGOO G-BOOSTER Folding Electric Scooter Dual 800W Motors 3 Speed Modes Max 55km/h 10 Inch Vacuum One-Step Fold, Adult Electric Scooter for Commute and Travel.
A video from GeekBuying about Kugoo G-Booster Electric Scooter
Specs
Motor Power: 800W x 2
Battery Capacity: 48V/23Ah
Charging Time: 10h
Range: 85km
Max Speed: 55km/h
Climbing Slope: 35 degree
Frame Material: Aluminium alloy
Tire: 10inch vacuum tire
Max Load: 120kg
Product Weight: 30kg
Product Size(L x W x H): 120 x 26 x 118cm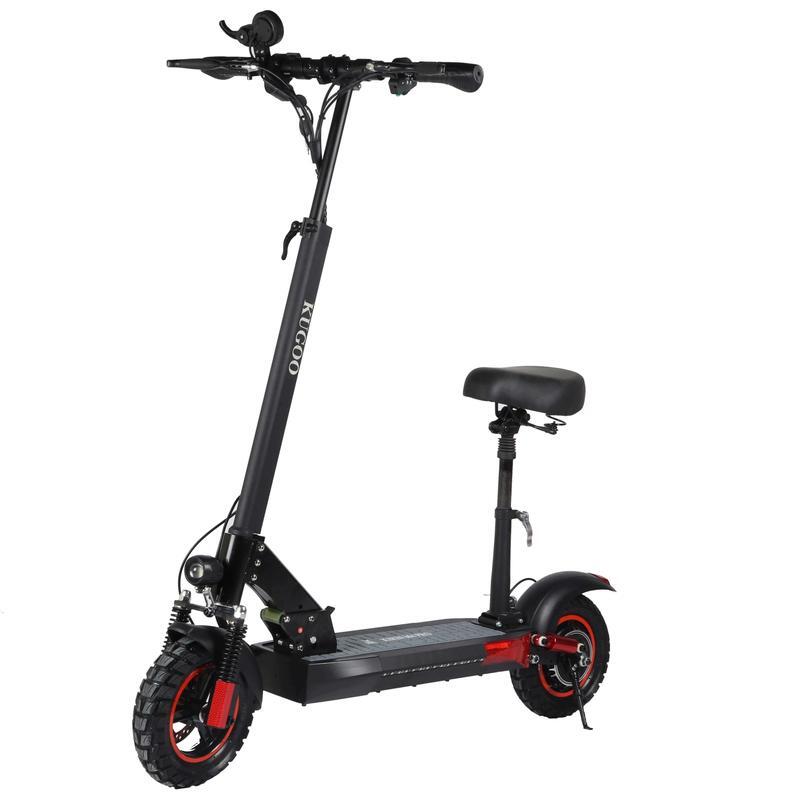 Highlights
Strong Grip, Wear-resisting and Safe. It's Suitable for Different Kinds of Roads.
15/30/45 KM/H, 3 adjustable speed settings to meet your preferences.
Strong power and running farther: 500W motor, Max 65 km running distance.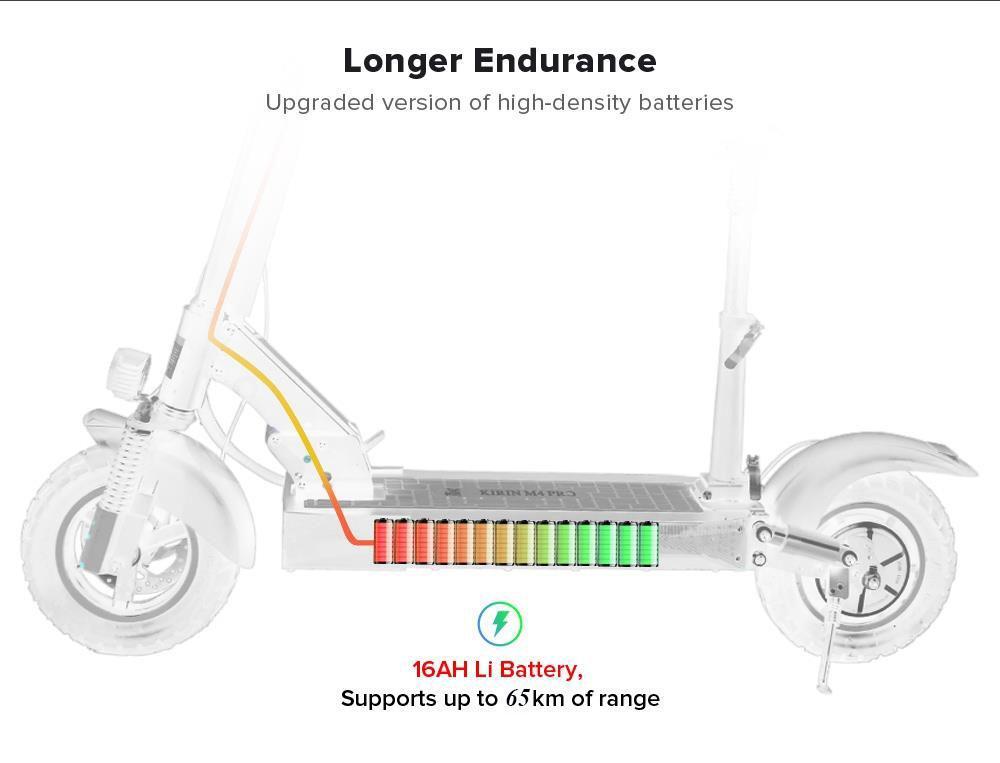 Front LED Light & Safety Warning Taillight
Bright Red Light to ensure your night riding safety.
New Generation Suspension System
Dual shock absorption help you enjoy extra miles on all terrain types.
The M4 Pro is equipped with dual disk brake on the front wheel and the rear wheel.
A video from Youtuber GeekBuying about M4 Pro electric scooter with seat
Specs
Max Speed: 40-45km/h
Max Range: 55 ~ 65km
Maximum Torque: 24N.m/s
Climbing Ability: 10°
Max. Load: 150KG
Motor : 500W DC brushless motor
Battery: 16Ah 48V, 18650 lithium battery
Brake Type: Disc brake
Tire Size: 10 inches
Chassis Height: 14cm
Product Weight: 22.6KG
Product Size (L x W x H): 119 x 60 x 112cm
For more electric scooters for adults on the Kugoo(UK) - Official Certified Site.
How much does a kid's electric scooter cost from KUGOO?
E-scooters for kids are about £100 - £300.
Currently, KUGOO has an electric scooter for kids - KUGOO KIRIN Mini 2 (£174.00 £249.00 )
(adults can ride it too, of course).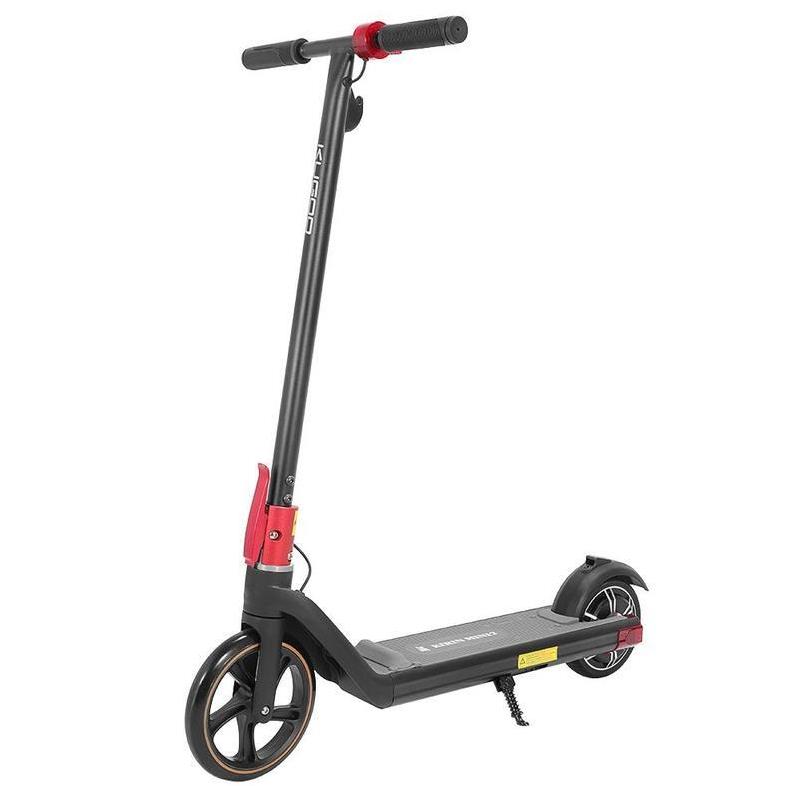 Highlights
8 & 6.5 Inch tire, taking into account the shock absorption and safety, riding more comfortable.
It has a 4Ah high-capacity lithium battery which allows for a longer range and higher speeds.
The strong driving force, 150W motor, Max 15km running distance.
3 seconds fast-folding design, stable and convenient.
Economic Space Occupation
85*42*34 cm folding size, space-saving, and portable to carry, easily cope with heavy traffic.
Aluminum alloy + ABS + PC material provides sufficient insurance for your driving safety.
Pass RoHS and CE verification, it is a safe product.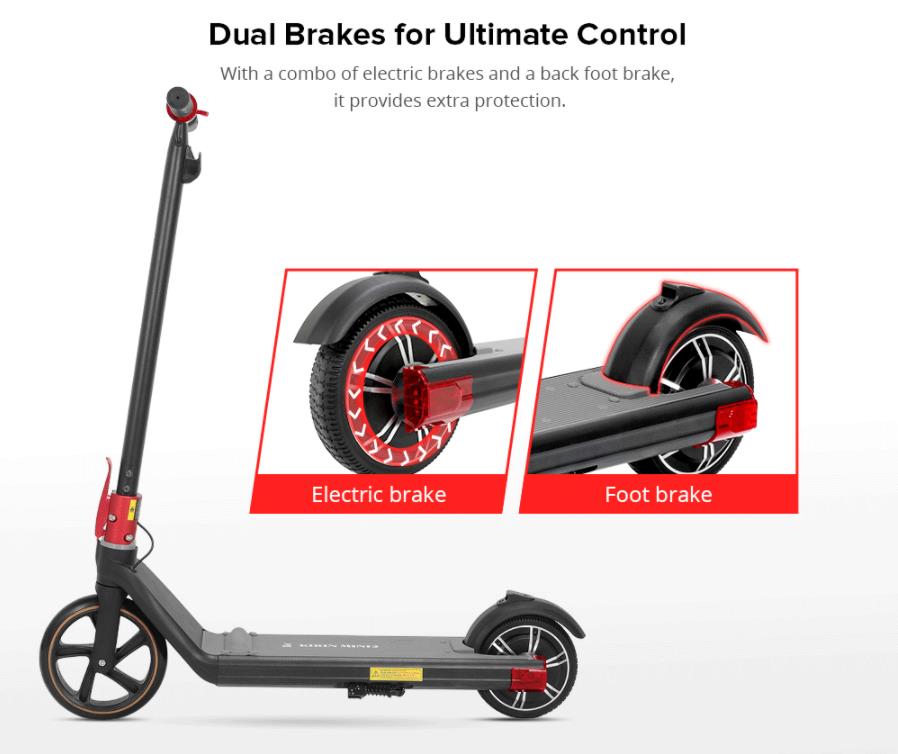 A video from GeekBuying about KUGOO KIRIN Mini 2
Specs
Max Supported Weight: 65KG
Max Speed: 15km/h
Motor Power: 150W
Charging Time: 4-5 hours
Tire Size: 8 & 6.5 inch
Battery Capacity: 21.6V 4Ah
Brake Distance: 3-5M
Max Distance: 10-15km
Battery Type: 4Ah lithium battery
Product Weight: 8.9KG
Product Size(L x W x H): 85 x 42 x 98cm
Also, we have electric bikes for you to choose on the Kugoo(UK) - Official Certified Site.
How to choose a good electric scooter?
If you decided to buy an electric scooter then it is time to think, what kind of electric scooter to buy and how to buy your perfect e-scooter.
What is your budget
Most people can accept the price from £300-1000 for an adult e-scooter and £100-300 for kids' e-scooters.
Of course you can have a narrower price range to make it easier for you to pick an electric scooter faster.
Somethings to consider
Terrain where you ridean electric scooter
Different electric scooters have different advantages. For example, electric scooters with larger pneumatic tires have better shock absorption and are more adaptable to less smooth roads.
So, you should consider Tire when buying an electric scooter.
Top speed and maximum range for electric scooters are two important factors that no one will ignore.
If you buy one for commuting, you need to roughly estimate your commuting time and distance, to determine how fast & far you need for an electric scooter.
It's all about ease of travel and choosing the right electric scooter can save you a lot of hassle.
Powerful motors, safe brakes, cool and stylish appearance, etc. You can consider it according to your actual needs.
Where to buy an electric scooter?
Here are 2 ways for you to choose.
Go to a scooter shop near your home, or if you don't see one scooter you like and not in a hurry, you can also choose to buy online.
Of course, you can choose to pick a e-scooter from our Kugoo(UK) - Official Certified Site.
KUGOO was founded in the year 2015 by a team of experts in the field of E-scooters. Challenged by the growing number of automobiles emitting harmful substances affecting the environment, KUGOO launched its first bestselling "Cool Green" electric scooter protecting the environment and helping millions of people to commute in a new innovative way.
We are now one of the leading e-scooter manufacturers in the world with a wide distributing channel across Europe including countries like Spain, Germany, Poland, Italy and more.
Aftersales team based in Europe allows users to utilized all the warranty services locally. Our dedicated customer support can be reached via phone calls or email for your convenience.
Find out more electric scooters for adults and kids or electric bikes on the Kugoo(UK) - Official Certified Site.
If you have any questions, please don't hesitate to contact us :)